Education Meets: Kaio-kensi and Brain Safety
By Catherine Beat-her Bonez
Education Meets… is back—just before we go into the exciting 2019 International WFTDA Championships weekend—with a very special and important episode. Since we started the series in May this year, we had a closer look at skaters who officiate, officials trainings and education, as well as hidden, but crucial tournament roles like GTOs and announcers. (Find all of them here: https://resources.wftda.org/category/wftda-education-meets/)
I wanted to end this year by shining light on a different topic: Brain Safety. So I am very happy to introduce someone who is doing a lot of work around this awareness and culture, and is also part of the 2019 Championship host league, Montréal Roller Derby. Save this article with all the important recommendations and resources, and let's keep this important conversation going. Happy learning!
---
Catherine Beat-Her Bonez: Who are you and what do you do?
Kaio-kensi: My name is Kaio-kensi. I am one of the team captains of the New Skids on the Block of Montréal Roller Derby. I care a lot about creating a healthy culture and mindset on the team and within the broader roller derby and global roller skating community. I think a lot about breaking down barriers, addressing the ways in which community members or those outside the community are excluded, gathering perspectives, and of course, promoting a physically and mentally safe training environment. Professionally, I work in sport, recreation, and cultural programming management; I write; I coach; I train athletes; and I provide communication, risk management, and business consultation services. My educational background is in Cognitive Science, with a specialization in Neuroscience, and brain safety has long been a passion of mine: as a topic it ties together all of my interests and life experiences, and is one area where I consume research and incorporate it into my life and work on a consistent basis. This year, I really felt the need to push that knowledge forward in the community in a way that helped people connect to it.
CBHB: And it worked! I saw your Twitter post and really liked the idea of changing team culture and approaches to high blocks. What did you do exactly, how did it start, and how did the team react? 
KK: At our first team meeting of the year after tryouts, I asked if I could speak a little bit about brain safety and a few suggestions I had about promoting it in our training and team culture. The reception was good, and people have been really working on it in meaningful ways. It's not always easy, but people do take it seriously.
Together we can commit to a positive, conscientious & proactive brain safety culture in this sport.

The answer to "you hit me in the head" should never be "it wasn't on purpose" – let's hear more "thank you for telling me, I will do better".

And then, do better!#DerbyTwitter

— Kaio-kensi (@kaiokensi) May 8, 2019
CBHB: Could you tell me a little bit more? Like, what do you consider the foundation of a healthy brain safety culture?
KK: I think first, there needs to be a baseline level of knowledge about the risks of different types of impacts so that players can make educated decisions about participating in the sport or continuing to participate in the sport after specific impacts or years of cumulative impacts that affect their brains. Ideally, there would also be a baseline level of knowledge about how to reduce those risks as well, including through Concussion Reduction prehab. I am curating a Concussion Reduction YouTube Playlist to give people ideas of exercises they can do. I discuss a bit of the reasoning behind including the different videos on this Twitter thread about it. Basically, you want the muscles that protect your brain to be strong, ready, and unrestricted.
Second, there needs to be a baseline level of understanding on the part of players, coaches, officials, and support staff about the signs and symptoms of concussions and imminently life-threatening head injuries. Everyone should—at a minimum—be familiar with the Concussion Recognition Tool.
Lastly, there needs to be a healthy and caring learning environment and performance culture where the team builds trust with their leadership and each other. This can be the hardest part. Our attitudes, cohesion, and how we live out our team standards and personal values in the training setting can have a direct effect not only on our mental health, but on our physical (including brain!) health as well. Everyone involved in the process has to be committed not only to the end result, but the manner in which the team gets there. Winning at all costs can have a pretty steep price that no one signed up to pay: our integrity, our personal safety, our long-term health, or our lives.
I highly recommend, for this reason, that any team and/or league participate in Conflict Resolution training, with regular refresher or check-in sessions. When people can deal with conflict and respect each other, it forms the foundation of a trusting professional relationship. We might not all come out as friends, but we should at least feel like we have a healthy working relationship with colleagues or leaguemates who are working with us together toward the same goals. In an ideal world, we are shouting our love for each other from the rooftops and trusting each other without hesitation; but we are all human, and we don't all need to be best friends, we just need to break down the barriers that prevent us from communicating effectively—the keystone of building a healthy brain safety culture. We need to have the tools to acknowledge our own mistakes, listen to and hold space for others, and be open to adapting and finding collaborative resolutions in order to lessen impacts to the head.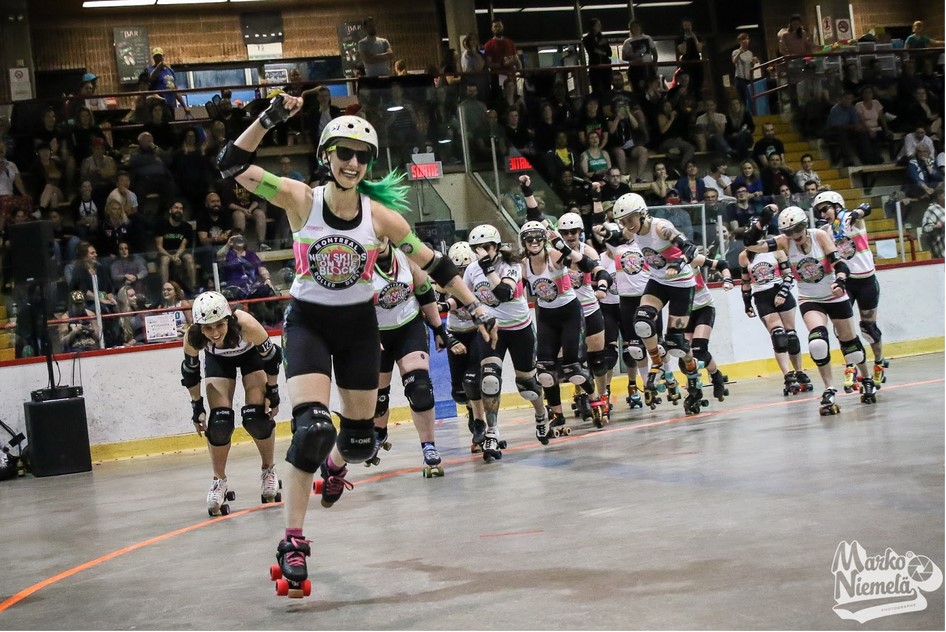 CBHB: Wow, these are very good recommendations and suggestions. What else do you do—or can one do—for more brain safety awareness?
KK: As a captain, I bring it up at captains meetings before games and scrimmages. I check in with the other team's leadership and the officials so that we can establish a mutual trust in prioritizing brain safety through both official and diplomatic avenues. Unfortunately, the referees will not see every impact (even though part of what we do as captains is provide feedback to the ref crew about impacts to the head), so it's important that we feel comfortable telling each other about unsafe actions and situations that are occurring on the track.
CBHB: Next to skating with the New Skids of Montréal Roller Derby, you also help coach Ottawa Valley Roller Derby's B-team. Any tips or recommendations for coaches?
KK: Skaters and coaches both need to be aware that impacts that affect the brain—especially to the head and face—can and will result in negative emotions, and need to be prepared to take a pause or break to allow decompression when emotions start running high or when the play is getting dangerously out of control. Coaches have an especially crucial role in helping prevent concussive and subconcussive impacts by considering how they plan their training arcs for the season, which drills are chosen for practices, and how their players' bodies are prepared for contact for every practice. It is also important that everyone is prepared to adapt at practice: being prepared to change gears when things get unsafe so that practice time is still productive but doesn't escalate the risk to anyone's life and longevity.
CBHB: Ottawa and the surrounding areas have a specific connection with brain safety awareness in sport, can you tell me more about that?
KK: In my home province of Ontario, Canada, all sport organizations must abide by Rowan's Law, named for a high school rugby player in my hometown of Ottawa who died from Second Impact Syndrome (sudden death by rapid brain swelling that occurs from receiving a blow to the body or head while not yet recovered from a previous concussion). Rowan's Law (Concussion Safety), 2018 requires that sports organizations confirm that athletes and parents of young athletes, coaches, team trainers, and officials review Ontario's Concussion Awareness Resources every year. Other regions in Canada also have published direction and resources concerning concussion management, such as the province of Quebec's Concussion Management Protocol (the 2nd edition was released in September 2019) and Tracking Tool.
CBHB: This has been super interesting and helpful. Where can we find you talking more about this topic? 
KK: I have written a blog for Roller Derby Athletics on how players can help foster a healthy brain safety culture, and in Rule 56's upcoming Derby Stance Online Coaching Summit, one of my two seminars will dive into how to create a brain safety culture as a coach! You or your league can purchase a Live or "Watch Later" pass to the entire summit or to either of my seminars, "Building a Healthier Brain Safety Culture" and "Organic Drill Design: Replicating true game scenarios in drills with position-specific planning."
CBHB: Thank you for your time and all the work you do!
---
Watch Kaio-kensi compete with the host league Montréal Roller Derby at the 2019 International WFTDA Championships November 15-17, and check out our WFTDA concussion resources page to find more information on this important topic!